Virat Kohli clarifies the reason why he put up an Instagram post on MS Dhoni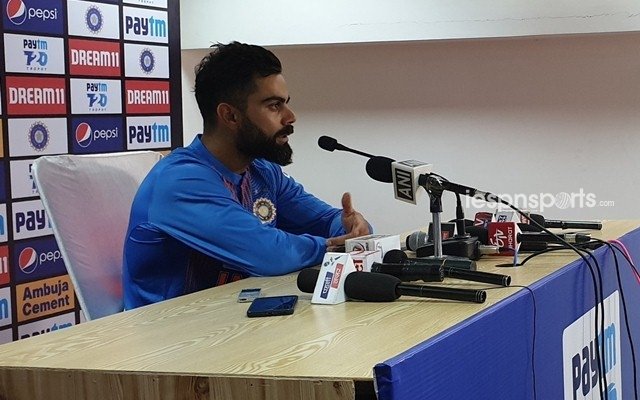 Ever since the 2019 World Cup ended, there have been constant speculations over when MS Dhoni, the legendary Indian cricketer, will hang his boots from the highest level. He hasn't had the best of times in international cricket. The veteran is currently on a sabbatical and wasn't a part of the West Indies tour. The Jharkhand-born won't be playing the T20I series versus South Africa as well.
In the meantime, a couple of days ago, rumours did the rounds that Dhoni would be holding a press conference where he would put forth his decision of bidding adieu to cricket. The fact that Virat Kohli, the Indian skipper, posted a picture along with Dhoni, made people speculate even more. Kohli wrote, "A game I can never forget. Special night. This man, made me run like in a fitness test."
People took it the wrong way, says Virat Kohli
Later, it was learned that the news of Dhoni announcing his retirement was baseless. Even Sakshi Dhoni, MSD's wife, put up a post on his Instagram story, clearing the air. Kohli is definitely not a happy man as his post for Dhoni was being perceived in a wrong way. He said that he put up the post only to reminisce the experience, he had with the enigmatic cricketer.
"All that I did was put up a pic on Instagram. I never got to talk about that innings so I reminisced about it & people took it the wrong way. There was no message in that picture as people suggested," Virat was quoted as saying in a press conference.
There haven't been any concrete developments on Dhoni's future in international cricket. After the World Cup, it was communicated that Dhoni won't be the national team's number one keeper. Rather, he would be a part of the transition process with Rishabh Pant being groomed. The plans are also being made, bearing in mind the 2020 edition of the T20 World Cup in Australia.
Most of the pundits have had their say on when the 38-year-old Dhoni should call it quits. His parents reckon that their son should retire since India can't handle the big property anymore. But his childhood coach Keshav Banerjee believes that Dhoni should try and continue until next year's T20 World Cup.