IPL 2020: Why David Warner is the greatest batsman in IPL history
David Warner's hand-eye co-ordination is impeccable. His fast hands spell doom for the bowlers and his proficiency off either foot makes him a potent weapon in his team's arsenal. Without a doubt, David Warner has already carved a niche for himself with his unrelenting penchant to score runs and has a stellar record in IPL cricket.
But, the question is– Can David Warner stake claim to be the greatest IPL batsman ever? In this article, let us do a deep dive into the statistics and crunch some numbers to find out.
David Warner- A Cut above the rest
In the table below, let us have a look at the Top 5 highest run-scorers in IPL: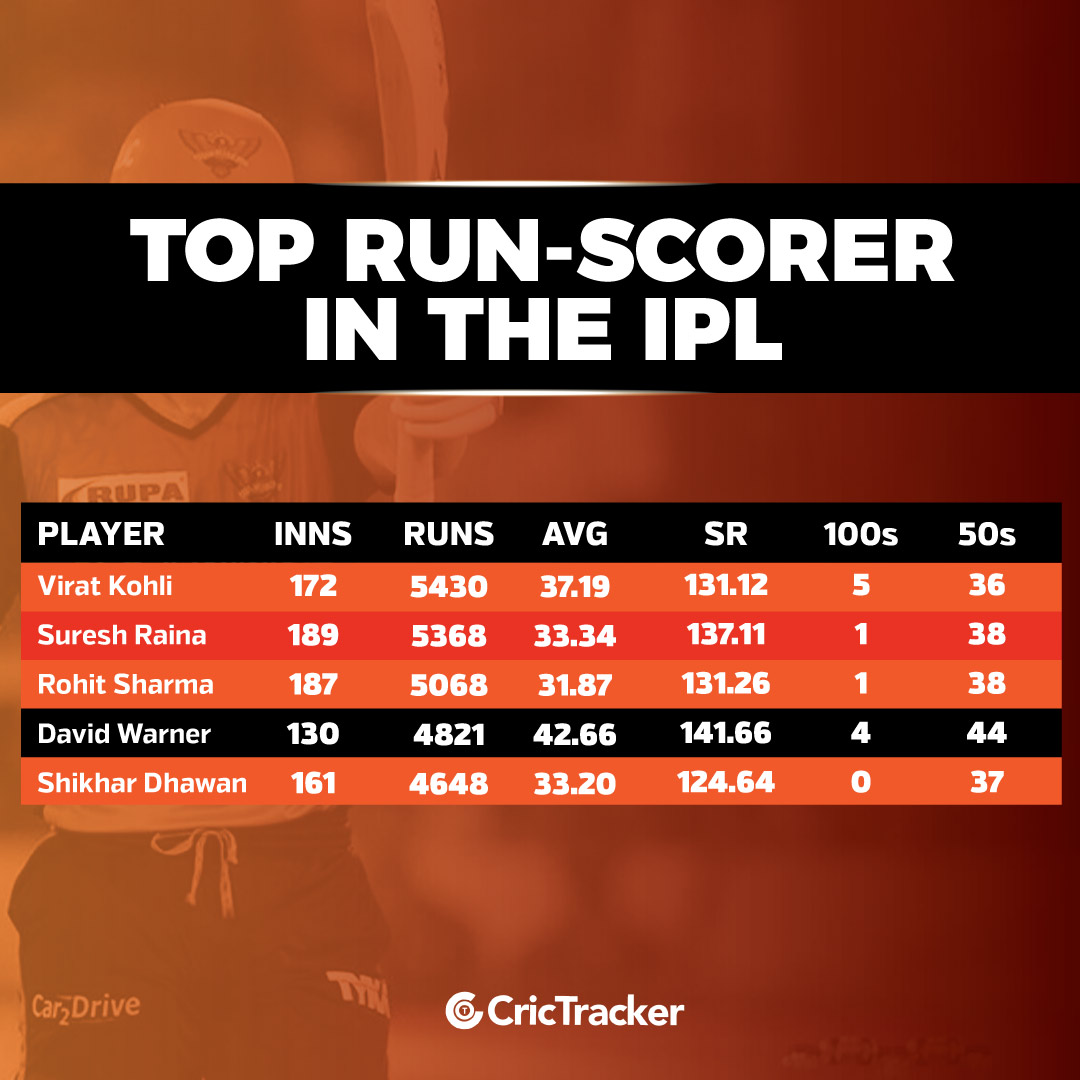 From the above table, we can see that Warner's stupendous record stands out and he is certainly a cut above the rest. Warner has played as many as 42 innings lesser than all-time leader Virat Kohli but has scored just 609 runs lesser than him.
Also, Warner is the only man from the list to average above 40. In fact, he averages over 5 points more than the next closest man (Kohli has an average of 37.19) in the list of Top 5 highest run-getters in IPL cricket. Also, Warner is the only man in the above list to have a strike rate of over 140.
In the table below, let us take a look at another revealing statistic: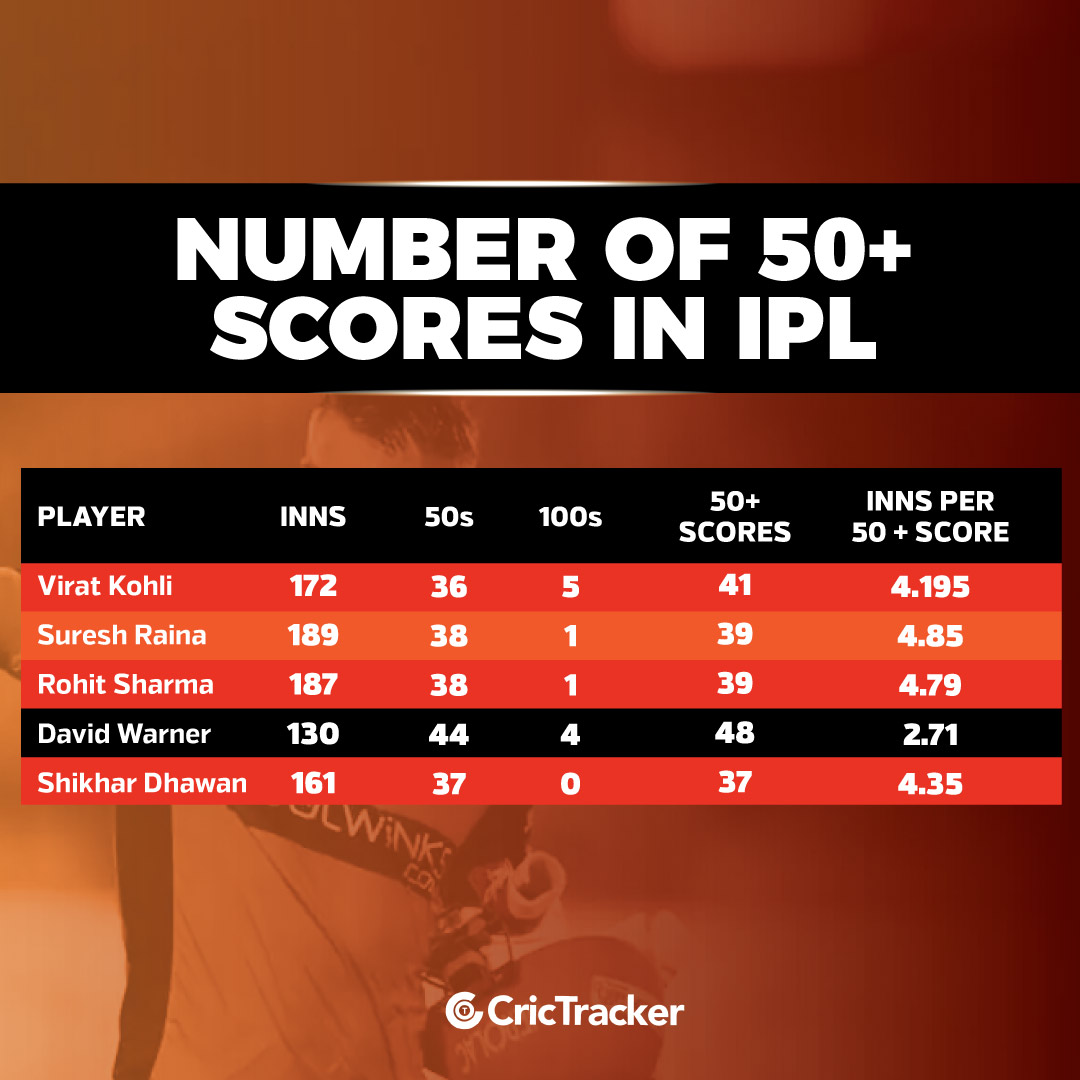 From the above table, we can see that Warner has the most number of fifty-plus scores in IPL cricket despite playing the least number of innings amongst the five batsmen.
And, he has taken just 2.71 innings on an average for a fifty-plus score in IPL cricket. In fact, none of the other 4 batsmen has an innings per fifty-plus score of even less than 4.00, and Warner has left everybody behind with his sheer consistency.
David Warner- The Orange Cap's dearest batsman
Also, the Aussie left-hander is the only cricketer in IPL history to have won the coveted Orange Cap award on 3 separate occasions. The man who has come closest to this feat is Chris Gayle, who won the Orange Cap 2 times. Warner's ability to churn out runs at will makes him a gladiator in IPL cricket.
In the table below, let us have a look at Warner's performances in the last 6 years in IPL (including 2020):
(Note: Warner missed the entire 2018 IPL season due to a ban)
Warner has set the stage on fire in the last six editions in which he has played. In fact, in every completed IPL edition from 2014, (in the 2020 edition he has played just 4 matches), Warner averages in excess of 40. Also, his strike rate in every completed edition since 2014 has never gone below 140.00. He has scored a staggering 34 fifties since the 2014 IPL edition and has sent shivers down the spines of the opposition.
Also, he has aggregated over 500 runs in every completed edition since 2014. Warner won the Orange Cap in 2015, then in 2017, and finally in the year 2019. In fact, his tally of 848 runs in the year 2016 is the second-highest run tally by a batsman in a single IPL edition after Virat Kohli's tally of 973 runs in the same edition.
David Warner can stake claim to be the greatest IPL willow-wielder
With such incredible numbers, Warner can rightfully stake claim to be the greatest IPL batsman of all time. He has scored runs by the bucketful and has scored them at a pace that is astonishing. Yes, Kohli might make us gape at him with his splendour, MS Dhoni might enthral us with his brute power, and Rohit Sharma might floor us with his flamboyance.
But then, if there is one man who can rightfully take the crown for being the greatest batsman ever in IPL cricket, then it has to be this stocky left-hander from the land of the kangaroos.